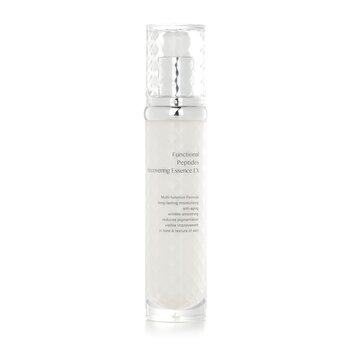 mori beauty by Natural Beauty Functional Peptides Recovering Essence EX 160279 45ml/1.52oz
Product Introduction:
All-in-one formula provides long-lasting moisturizing, wrinkle smoothing, brightening and whitening benefits
Strictly selects 9 patented ingredients and 6 certified organic ingredients
Added with complex peptides and other anti-aging ingredients, this serum gives you comprehensive pampering skincare
Main Ingredients:
A full range of anti-aging and firming ingredients - using Matricaria Maritima Extract, Hexapeptides and Complex Peptides to provide anti-aging and firming benefits. Effectively soothes sensitive, fragile skin caused by dryness while smoothing fine lines and restoring skin elasticity.
Two brightening ingredients - Whitening Nonapeptide and Resveratrol to create a radiant, transparent complexion Triple moisturizing ingredients to intensely hydrate skin - Contains triple moisturizing ingredients, including North Atlantic Glacial Algae, water-locking magnets and natural Hyaluronic Acid to replenish and lock in moisture. Remarkably strengthens skin barrier and restores skin flexibility.
How To Use:
After cleansing the face every morning and evening, apply to the face and neck using 2-3 strokes and massage until completely absorbed.

Add to cart
100% genuine products guaranteed
FREE SHIPPING by registered post
Delivery usually takes 10-21 business days. Orders are shipped by Netherlands Post and delivered by Swiss Post. Some perfume orders are shipped and delivered by Fedex or DHL

30 days money back guarantee. If there is any problems with the products please send us an email and we will provide a solution to you, guaranteed.
We use PayPal to process secure payments, including credit card payments.
Your purchase is protected by PayPal buyer protection. If you do not receive the products, you can request the refund of your money.