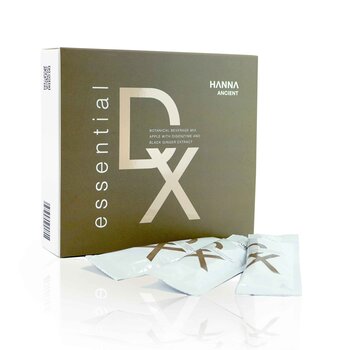 Hanna Ancient HANNA ANCIENT ESSENTIAL DX BOTANICAL BEVERAGE MIX APPLE WITH DIGEZYME 15pcs x 20ml
It is well blended with natural fat burning and detoxifying ingredients. It is also coupled with water-soluble fibre and complex enzymes that breaks down calories. In addition, it includes a Japan's patented's Sirtmax® Black Turmeric Extract that helps to reduce glycation in the body. Essential DX also produces a highly antioxidant effect that improves insulin resistance, suppresses visceral fat accumulation and is anti-inflammatory. This helps the body to flush out toxins and breaks down carbohydrates and fats. It can also assist with cleansing the colon from an accumulated build-up of toxins while promoting metabolism and enhancing the vitality of the body.
Benefits:
Detoxifies Burn Fat Promote Weight Loss Stimulate Bowel Movement Prevent Constipation Improve Immune System Improve Digestive System Antioxidant & Anti-Inflammation Increase Metabolism Anti-glycation
Suitable for:

Add to cart
100% genuine products guaranteed
FREE SHIPPING by registered post
Delivery usually takes 10-21 business days. Orders are shipped by Netherlands Post and delivered by Swiss Post. Some perfume orders are shipped and delivered by Fedex or DHL

30 days money back guarantee. If there is any problems with the products please send us an email and we will provide a solution to you, guaranteed.
| | |
| --- | --- |
| Barcode / UPC/UPC | 133030591056570 |
| Category | Health |
| Brand | Hanna Ancient |
| Product line | |
| Size | 15pcs x 20ml |
We use PayPal to process secure payments, including credit card payments.
Your purchase is protected by PayPal buyer protection. If you do not receive the products, you can request the refund of your money.